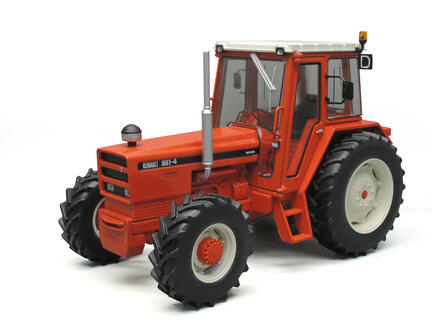 Renault 981-4
63.68EUR
Item number: Rep125
This scale model of the Renault 981-4 tractor is an impressive piece of craftsmanship and will add a touch of nostalgia to any collection. It is made with a high level of detail that makes it hard to distinguish between the model and the real tractor.
The Renault 981-4 tractor was introduced in 1978 and was one of the most popular agricultural machines of its time. It has a 4-cylinder diesel engine and a maximum power output of 80 hp. The tractor is also equipped with a 12-speed synchronised gearbox for smooth and reliable performance.
The model tractor is made of durable material and is approximately 1:32 scale. It is also movable, so you can adjust its position and control its various parts. This model makes a great gift for agricultural experts, collectors or anyone who wants to add an agricultural theme to their room or desk.
With its accuracy and attention to detail, this scale model of the Renault 981-4 tractor is a must-have for any collector or agricultural enthusiast.
Prices are incl. VAT
Scale:

1:32

Year of publication:

2015

Article category:

Series model

Original manufacturer:

Replicagri

Execution:

individual design /

Replicagri
Attention: Ornamental models for adult collectors. Not suitable for children under 14 years old.