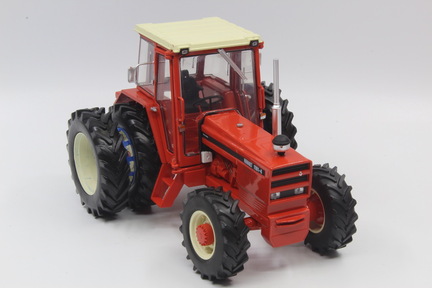 Renault 1181 4wd w/twin wheels
70.5EUR
Item number: REP172
The Renault 1181 4wd is a reliable tractor suitable for a variety of agricultural tasks. With a power output of up to 118hp and four-wheel drive, this tractor can handle even the most demanding tasks in the field. It's also equipped with twin wheels for extra traction and stability on uneven surfaces.
The tractor is designed to be user-friendly and easy to operate. It has a spacious cab with good visibility, ergonomic controls and an intuitive gearbox. It also features a powerful hydraulic pump and a large rear lift to handle heavy equipment and materials.
The Renault 1181 4wd is also renowned for its reliability and durability. It's built to withstand the harsh conditions of the field and requires minimal maintenance. With regular service and care, this tractor can last for years and continue to deliver reliable performance.
With its strong performance, user-friendly design and reliability, the Renault 1181 4wd is an ideal tractor for farmers and agricultural businesses looking for a reliable and versatile tractor to handle their tasks in the field.
Prices are incl. VAT
Scale:

1:32

Year of publication:

2010

Article category:

Series model

Original manufacturer:

Replicagri

Execution:

individual design /

Replicagri
Attention: Ornamental models for adult collectors. Not suitable for children under 14 years old.