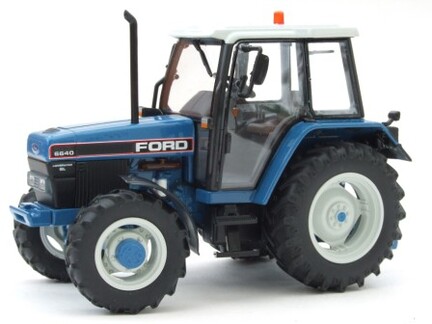 Ford 6640 SL 4WD
63.93EUR
Item number: 30130.6
The Ford 6640 SL 4WD is a detailed diecast collectible model in 1:32 scale. This model is based on the real tractor and features an accurate reproduction of all the important details and features that make this tractor one of the most popular in its class.
The model features a beautiful blue and white colour combination with a realistic paint finish that gives it an authentic look. It also features an accurate reproduction of the interior, including the steering wheel, dashboard and seats.
The Ford 6640 SL 4WD is equipped with a strong 4-cylinder engine and can tow heavy loads with ease. The model also has an all-wheel drive structure that gives it extra traction and stability on uneven surfaces.
Overall, this diecast collectible model is a great addition to any agricultural machinery or tractor collection. It also makes an ideal gift for farm machinery and tractor enthusiasts.
Prices are incl. VAT
| | |
| --- | --- |
| Scale str 1:32 | 1:32 |
| Year of publication: | 2019 |
| Product category: | Series production |
| Original producer: | ROS |
| Execution: | Design original manufacturer |
Attention: Ornamental models for adult collectors. Not suitable for children under 14 years of age.